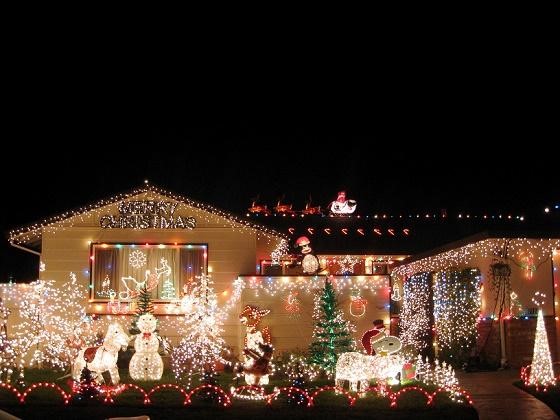 Guest Blogger: Francesca Holmes
The holidays are a chance to express your creativity and celebrate the season in style. No matter what holiday you observe, the enjoyment of food, family and friends and festivity is enhanced by a bright and luxurious décor.
The look is easy to accomplish if you have a natural flair for decorating, but if you are attempting to truly transform your home into holiday headquarters this year, we've provided some inspiration and six steps to help you make an impression this holiday season.
Step One: Identify the Central Festive Room
In every home there is one room which is designated as the focal point of festivities. Typically this room is not the kitchen (even though guests love to gather there) as decorations get in the way of food preparation.
If the living room has a fireplace (gas or wood burning) it is the ideal location to start creating your theme. Depending on your personal taste, you may wish to decorate for the holiday in standard red, gold and green colors for a classic look. Other people prefer a mono or duo chromatic theme, sticking to only one or two colors consistently throughout the home for a polished, professionally styled look.
The first rule of decorating for the holidays is to ensure that there is ample seating in your central festive room. This might mean moving in occasional furnishings such as accent or arm chairs from other rooms. Stage your room for entertaining, and if you plan to have a holiday tree, place the tree in your focal spot.  Guests will want to sit in the room where the presents are (it's part of the holiday fun!).
Step Two: Organize Decorations
Place a box or two in each room that you wish to decorate, and start sorting through your holiday decorations. By planning out which decorations will be hung in each room, you can quickly take an inventory of what you have, test to see what is working (check light bulbs and strands) and make a list of additional decorations you may need to complete your festive transformation. Pre-sorting your decorations will also save you money, and help you stay on budget for holiday decorations.
When organizing your decorations by room, consider the architectural features of each room and the opportunities to create festive features. If your home has more than one floor, consider a small vignette in each bedroom to tie in the holiday theme. Decorative holiday pillows are an excellent way to add a fun and cozy look to each bedroom. Whether decorating an adult or children's bedroom, accent pillows are an easy way to create a festive look.
Step Three: Let There Be Light!
Whether decorating a tree or interior (and exterior) areas of your home, remember to start with the electrical components and larger decorations first. Hang lighting to illuminate window and door frames, or other features that will enhance the glow and warmth of your space, such as the railing on stairs, and on top of high cabinetry.
Creating ambient lighting is one of the great secrets of decorating like a professional designer. Consider each space to be a light source that can enhance the mood of your guests. Interior designers create vignettes which are small scenes of holiday cheer throughout the home, and you can do the same. Some ideas include removing some china or collectibles from glass door cabinets and replacing them with ornaments and lighting. After you have mapped out and installed your ambient lighting, turn out the main light sources (overhead lights) to test the look of your theme. Are there any areas that are excessively dark? Brighten them up by creating a small vignette with colored lights that match your theme.
Step Four: Decorate in Three Dimension
Covering up the lighting with holiday swag and ornaments is the fun part, if you are a naturally talented decorator. For the rest of us, there are some tips and tricks to making your home look like a professional designer staged it for the holidays, without the expense.
Holiday swag can be fabric or plastic (or a combination) of greenery that can be purchased from your local arts and crafts supply. For a three dimensional look, do not stick to only one shade of greenery, but combine several hues of deep holly green and medium green tones for a natural look on swags and wreaths.
Floral 'picks' are small bunches of berries, accent pieces that sparkle in gold, silver or red and can be added to greenery to create splashes of color that match your theme.  If you are short decorations for your tree, you can also use the floral picks to add dashes of color to the innermost branches and near light sources to cast a colored reflection on the space.
Build out your floral swag decorations in layers from the electrical light strand, placing greenery and accent pieces in front. And don't be afraid to add some creative panache with glass tree ornaments, or wood rocking horses and soldiers for a playful childhood inspired holiday appeal.
Step Five: Decorating with Signs and Typography
Pallet crafts are all the rage with decorating enthusiasts and home crafting hobbyists on Pinterest. Repurpose a yard sale frame and create a sign that welcomes visitors with cute holiday captions. Imagine hand painting a sign with two arrows, pointing guests to "food" or "presents".
Use your creativity to make your own stenciled signs that create a whimsical (and warming) personal appeal to your holiday entertaining. Spiritual or other inspirational quotes about family and celebrating are also a great way to create small festive vignettes with homemade crafts.
Prepare your home for visiting relatives and friend by replacing old uncomfortable mattresses in the spare bedroom with new, organic mattresses by Essentia, Lifekind or PureRest. Decorate each room with inspirational holiday captions to share your holiday cheer. Don't forget that a little chocolate goes a long way.
Step Six: Sensational Scents
If you are a fan of candles, consider the scent-scape of your home as equally important when you plan your festive theme. Three wick candles are a little more expensive, but long burning variations (particularly clean burning soy candles) are the perfect choice for the holiday season.
For some homes with young children or pets, candles may not be an option. Plug-in heated oil scents are equally as effective, as long as you are coordinating your scents. For instance, it's good practice to use a pine scent in a bathroom and near a holiday tree to enhance the holiday experience, and common for individuals to pick gingerbread, cookie dough or apple and spice scents for areas like the kitchen, where food is being prepared. Limit yourself to two scents to avoid overwhelming visitors.
For additional interior design inspiration, visit Pinterest and Houzz. Both creative communities provide DIY instructions for crafts and projects, as well as glimpses into professionally designed spaces that will share styles worth stealing for your home.
About the Author: Francesca Holmes is a writer and often writes about home improvement tips. When not on a mission to bring high-end architecture to the masses, she enjoys exploring the great outdoors.