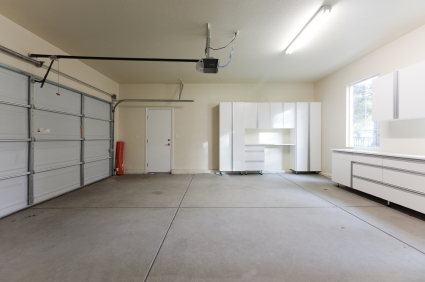 Winter is a great time of year to start thinking about a garage upgrade. This home remodel project can consist of organizing your existing garage area, adding some shelving to create more efficient storage or adding cabinets and updating floors. Adding overhead shelving to manage your storage needs is another option for a garage upgrade. In this home remodel project example, we will focus on a complete upgrade. The insides of many garages have unfinished walls with exposed wood framing. The first step of this project is to add drywall overlays to create functioning walls that can support shelving and cabinets. While adding walls, you can add insulation to make your garage a bit warmer in winter and cooler in summer.
Storage of your materials, tools, household goods,and  holiday decorations can be stored with built in cabinets. Using hanging organizers, pegboards or self standing shelving units can also be valuable when adding storage. Review all the items in your garage that require storage. This review will help you make decisions on the type of storage to add. This storage will need to make room for your cars. You may also choose to store your sporting equipment or kids outdoor toys in your garage. These types of items will need to be considered when determining your storage needs.
A garage upgrade can cost as low as $1,500 to simply add walls or over $10,000 to complete and finish a garage. Adding walls, shelves or cabinets and flooring can increase your garage upgrade budget. Your budget will help you identify what you can change in your garage.
When considering a garage upgrade, think about the following items.
| | |
| --- | --- |
| Base Cabinets | Insulation |
| Drywall | Tool Pegboard |
| Flooring | Upper Cabiners |
| Garage Door Openers | Labor |
| Garage Doors | |
When you are ready to get started on this project, consider if there is any part of the project that you can do yourself. Performing some of the work yourself will help you manage budgets. If hiring a professional for all or part of the job is important, this will increase your budget. Some garage organizing companies also have resources that can come in and help you manage all the details about the project. This can take the project manager burden off your plate.
There are lots of garage storage solutions, so here is just one example of a garage solution from Monkey Bar Storage.