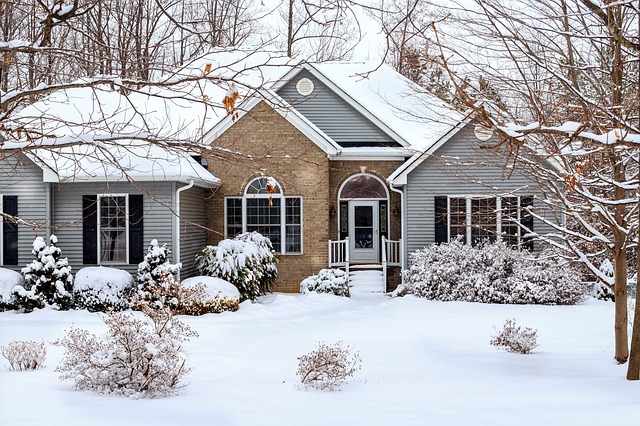 Guest Blogger: Yuka Kato
The winter months can take a toll on your home. Between the cold weather driving people to stay indoors and run the heat, and the elements wearing out surfaces in and around your home, most homeowners find that there are many home repairs to be made in the winter. Whether you need to fix appliances that give out due to heavy use, or you need to seal up your home, take steps to make sure you're ready for whatever winter throws at you.
Water Heater Repair
You typically use more hot water during the colder weather with longer hot showers and baths. Most hot water heaters only last about 10 years if they're well maintained, and the heavier use in winter may cause them to fail. If your heater is older, you may want to consider replacing it with a newer, more energy efficient model instead.
A hot water heater is a fairly straightforward replacement. Newer models are extremely energy efficient, and can save you a lot of money on your energy bills. Options include standard, tank-style heaters, as well as newer tankless models that only run when you need them to.
Typical Cost
The typical cost to replace a water heater is $826 for a standard 50 gallon tank.
Tips:
Electric hot water heaters require sufficient floor space, typically located near other utilities.
Tankless heaters are installed inside of walls and require no floor space.
Some gas heaters can be installed outside, saving the cost of the vent.
Gas heaters installed indoors require an additional vent, which may add to the cost of the unit.
DIY or Not?
In some cases, a DIY installation of an electric hot water tank can be done. However, in many areas a licensed technician and a permit are required to install the unit.
Roof Leak Repair
Melting snow on your roof could refreeze on the edge, causing an ice dam. Ice dams allow water to back up under your roof, causing leaks and deteriorating your shingles. The resulting water damage could lead to mold and mildew growth, so if your roof is leaking it needs to be fixed – and fast.
Most roofs deteriorate at the same rate, so if your roof is leaking in one area, it's just a matter of time before it leaks elsewhere as well. Many homeowners choose to install cost-efficient asphalt shingles, which come in a wide range of colors and styles, but other roof types are available as well including cedar, copper, tile, and aluminum.
Typical Cost
The typical cost of an asphalt shingle roof is around $8,759 including the shingles, underlayment, and labor for 2,500 sq.ft. home.
Tips
Your roof has a major impact on your home's curb appeal, and flaws or problems are a major eyesore.
There may be rebates or grants available for energy efficient upgrades to your roof.
DIY or Not?
This project is not recommended for DIY due to the height and difficulty of the job. Partial DIY of the removal and disposal of the existing roof may be possible to save on costs.
Gutter Repair
Melting snow and ice on your roof can build up into an ice dam on your gutters. This accumulation of ice can force the gutters to crack or even come away from your home. Gutters are important to help direct water from your roof and stop your shingles from deteriorating, so if they begin to fail, you need to take care of them ASAP.
Steel gutters are one of the hardiest, longest lasting options you can find for your home. They can be found in any color to match your home's exterior and curb appeal, and are likely to stand up well to future winter weather.
Typical Cost
The typical cost of 150 feet of 5-inch steel gutter is $1,343 including the fastenings and downspout.
Tips
Gutters influence your home's curb appeal and any issues or flaws may be obvious.
Downspouts are typically placed every 35-feet of gutter.
Taxes and permit fees are not included in the above costs.
DIY Considerations
DIY is possible for an experienced homeowner with a full complement of handyman tools.
Window Replacement
According to the National Resource Defense Council, your windows are losing almost a third of your home's energy. While there are steps you can take to temporarily reduce this, the best thing you can do to help stop this loss is install new energy efficient windows.
Double and triple glazed windows are the most energy efficient options for your home, and you can find models that exceed the EnergyStar recommendations for the biggest heat stop. Newer windows have a very low U-factor to stop heat transfer, as well as a low-E coating, which can help prevent fading of fabrics indoors. Opting for a wood frame is a classic choice that can help your home's curb appeal as well as energy efficiency.
Typical Cost
The typical cost of wood frame replacement windows is $1,245
Tips
Purchasing and installing more than two windows at a time may provide you with a discount per unit.
Some national or local subsidies may be available for energy efficient improvements like window replacement.
DIY or Not?
This project is likely unsuitable for DIY installation. Carpentry experience and a full array of handyman tools may be required.
Door Replacement
Wood doors are beautiful, elegant, and the perfect complement to many homes. Unfortunately, most wood doors also need to be maintained to help protect them from the winter elements. Overlooking this regular maintenance and repair work can cause the wood to rot over time, which can make a fiberglass a better choice.
Fiberglass is energy-efficient and low-maintenance. They come in a wide range of styles, so they can complement any home, and both can be painted in any color.
Typical Cost
The typical cost for a fiberglass exterior door is $679
Tips
The prices listed above are for services in the area immediately around provider – taxes and other fees not included.
You may be able to find national or local subsidies for energy efficient home improvements such as installing a new door.
DIY or Not?
DIY is probably not an option in this case, and may require carpentry skills as well as a full complement of handyman tools.
Winter can be hard on your home, and it's better to be prepared than to be taken by surprise. Be sure to check over your home at the start of the winter and fix any problems that arise sooner rather than later. And be sure to check out HowMuch Cost Guides to find out more about how much your home repairs could be costing you.
About Author: Yuka Kato – Cost Wizard at HowMuch.net Yuka writes about home improvement tips & tricks to help homeowners learn more about improving their properties. She also delivers useful cost information you can use to help improve your own home at HowMuch.net.