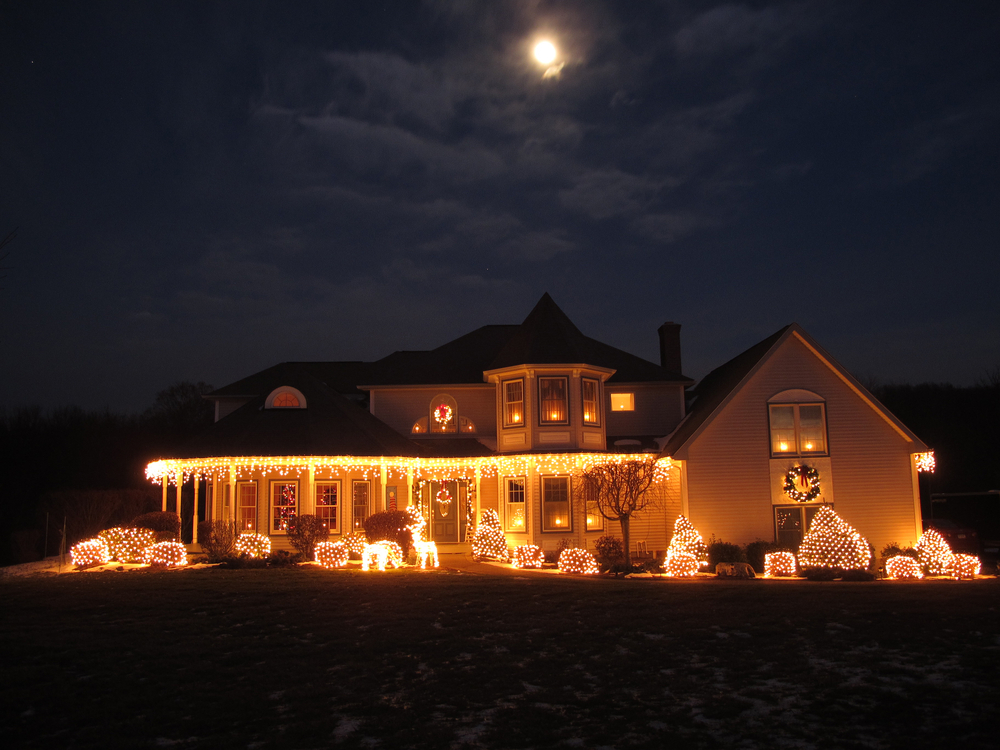 The holidays are here and full swing! But maybe you are having some trouble getting festive! The holidays can sometimes bring on a lot of stress. As a result, this stress may prevent us from really getting into the holiday spirit. So let's take a look at some ways to really jump into the holiday spirit but making a few adjustments to your home.  These holiday tips will make life a bit less stressful during this season. 
Trim a Tree 
A Christmas tree speaks completely to the holiday season. It says, "I'm here, so lets get me dressed up and add some presents around my skirt to really dress me up." Seriously, trimming and decorating a tree is a great family event that brings people together to get share and enhance the holiday vibe. What is more exciting than sharing an eggnog or mulled wine while also adding some bulbs, stars, ribbons, lights and ornaments to a tree?
Making a homemade tree with strings of popcorn or paper snowflakes can also bring the joy of togetherness while crafting. A homemade tree is fun to craft with the imagination given to all the family members contributing to the special look of the Christmas tree.
Add Lights to Brighten Your Night
Have you ever driven through a neighborhood at night during the holidays and you realize that a smile as big as your face appears when you see that house that is glowing from all the lights that have been added? Lights brighten anyone's day and they bring joy to passersby that are traveling around the holiday season.
Bringing the neighbors together to create a Christmas lighting event can be spectacular way to share your lighten efforts with groups of people that appreciate the holiday season.
Personalize a Welcome Wreath
What better way to share your holiday style with a wreath that you have personally created. Whether you like swags or round wreaths, whether you like red or silver, or your add a theme of snowflakes or candy canes, a wreath can help show people what they may experience in your home for the holidays.
Maybe you want to take old socks or sweaters and create a cozy unique wreath. Or sewing or cooking is a hobby, so thimbles and spoons are your favorite decorating object for your wreath. Maybe you had a new addition to your family and you want to use photos of the little munchkin on your wreath. Creating a wreath that reflects your personality is easier than you might think and so much fun.
Add Some Holiday Scent to Your Home
The holidays always smell a little different. With the trees comes evergreen scents. With baking comes cinnamon, nutmeg and vanilla. Holly and berries bring a fruity scent. Citrus is coming into season and oranges and cloves give a refreshing scent to a home.
Adding these scents to your home through candles, potpourri, scented reeds or oils, or even simmering these scents on your stove will sure to bring the scents of the season to put you in a glorious mood.
Host a Cocktail Party
A great way to get in the spirit of the holidays is to get a holiday party on the schedule and invite family and friends to come join in your festivities. Have friends bring a bottle of wine or champagne for a surprise event. Or host a game night for your friends and change all the game themes to holiday focus. Charades and pictionary with Rudolph and Santa can make the evening a little silly but reminds us of the child inside.
To pay it forward, ask friends to bring items that can be sent a charity like socks or toys for kids or cans of food for the homeless. This time of year is a great time of year to give back to those who are in need.
With the holidays here, we hope you have an amazing holiday season!