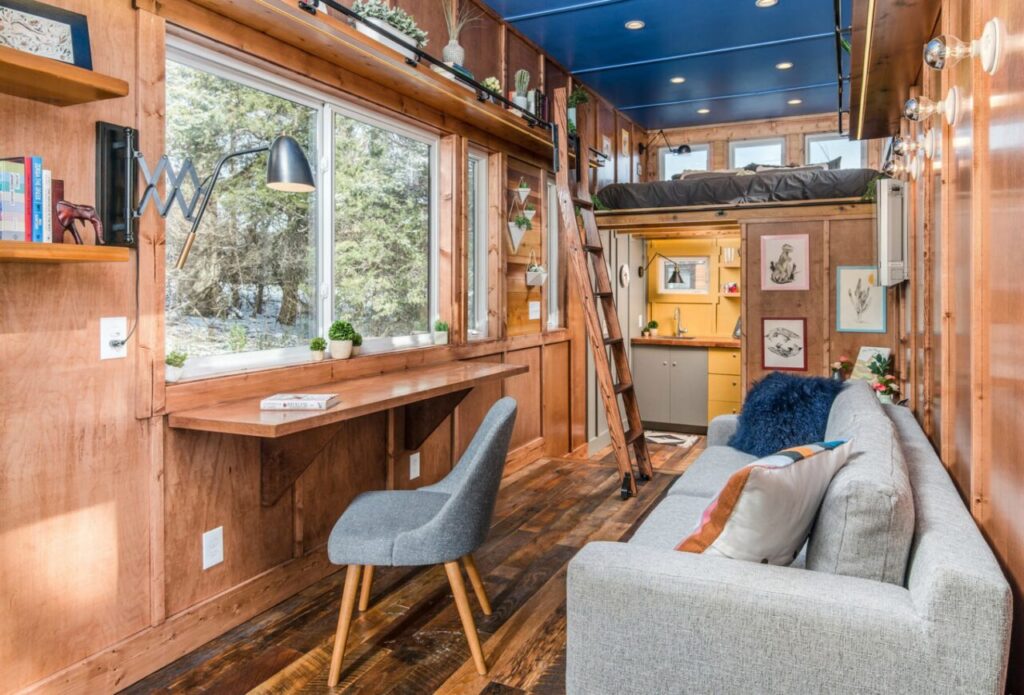 The expense of owning a multi-family home can become suffocating, especially when the kids head off to college and rooms become eerily vacant. The hidden costs of homeownership take a toll on your financial health, and expenses like property taxes or damage repairs can become debilitating. You might be struggling to budget the limited leftover cash once the bills are paid and are getting tired of sacrificing leisurely purchases in lieu of mortgage payments. If you yearn for a manageable home and a life with more economic freedom, it's time to downsize.
Moving to a smaller space gives you the opportunity for a fresh start and allows you to spend money without worrying about the next excessive electric bill. As downsizing grows in popularity, more and more people turn to tiny homes for a simpler lifestyle. In fact, more than half of all Americans say they have considered living in a compact space, citing self-sufficiency and cost-cutting benefits as a huge draw. Micro-houses have risen from a glint in the eye of aspiring downsizers to a full-blown movement joined by thousands each year.
Not sure if you are ready to leave the traditional housing market? Here are seven reasons you should explore the tiny house lifestyle.
What you need to know about tiny house living
Tiny homes offer a substantial economic advantage to their owners, but there are also several unspoken benefits. Reduced space rules out any chance for clutter, and homeowners quickly become expert organizers. The added mobility of tiny homes offers endless adventure opportunities, making the perfect house for those chasing wanderlust. Once you've decided to join the compact home movement, you are ready to shop for small house plans.
Design it yourself
Starting from scratch is the only way to truly ascertain your dream tiny home. Even if you aren't building the structure with your own two hands, designing the architectural elements is well within your grasp. Selecting materials, color schemes, and organizational components makes your home personal and unique.
Become eco-conscious
Less space means less energy, not only saving you on costly bills but lessening your ecological footprint. Appliances like compost toilets or solar-powered showers afford a tiny home with independence from the city grid while substantially reducing your energy intake.
Spend more time outdoors
People with enormous estates tend to spend their time within the confines of concrete walls. Tiny homeowners are apt to venture into the great outdoors and become more connected with nature. Mobile micro-houses can be parked in any non regulated area, meaning you can spend weeks living among an enchanted forest or scenic shoreline.
Wave goodbye to debt
Building and owning a tiny home is substantially cheaper than pursuing a multi-family house. Cutting back on costly water bills, property taxes, and unforeseeable repairs allows you to save big bucks and escape debt. Simplify your lifestyle and achieve financial stability by downsizing to a gorgeous tiny home.
Breeze through cleaning tasks
No one revels in scrubbing their bathroom tiles or dusting hard to reach worktops, especially when tackling a four-bedroom home. While cleaning remains a necessary task, a tiny house makes the tedious chore a cakewalk. Fewer surfaces and multi-use spaces mean you can tidy up in a matter of minutes.
Reinvigorate your creative mind
Packing your life into a few hundred square feet requires a creative mindset. You'll need to think outside the box when designing a functional space that meets your aesthetic desires. Utilizing the limited space to your advantage will become an exciting challenge that sparks inspiration.
Go small
Tiny homes can release you from traditional homeownership's financial constraints and introduce you to a more creative lifestyle. Reconnect with what really matters in life when you join the micro-house movement. 
More blogs about downsizing can be found here.
Benefits and Drawbacks of Downsizing Your Home
5 Quick Downsizing Tips for a Stress Free Move