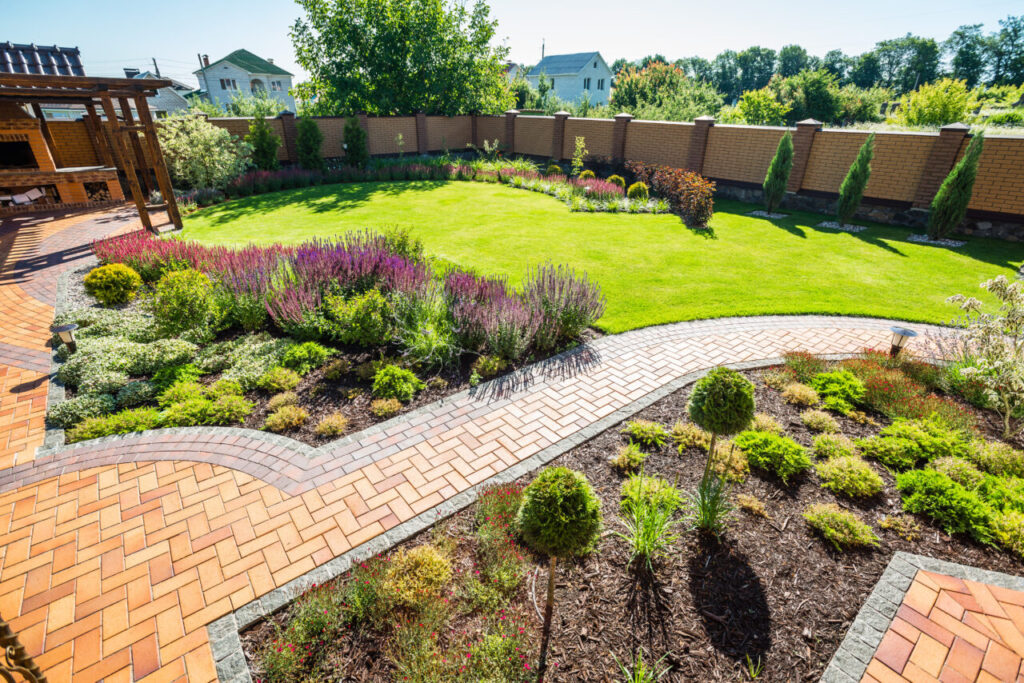 Dogs are widely revered as man's best friend for a reason. Their unwavering companionship and love can decorate your life with joy, adventure, and inner peace. For many first-time dog owners, canine companionship can even lend to therapeutic benefits and an improved state of mind.
However, the responsibilities and commitments that come with owning a furry family member should be kept in mind. Dogs require daily exercise, stimulating playtime, and a place to relieve themselves outdoors, which may wreak havoc on your lawn. If you want to avoid unsightly yellow spots and tramped-down dirt patches, thoughtfully choose the type of grass best suited to your family's needs.
Ready to puppy-proof your backyard? If so, here are few grass varieties that can stand up to your dog's daily roughhousing, potty breaks, and games of fetch while still looking vibrant and manicured.
Kentucky Bluegrass
The deep blue-green hue of Kentucky Bluegrass isn't the only thing that makes this variety of grass wildly popular. Your pup might wear you out after playtime, but you won't have to worry about your lawn wearing out anytime soon if you use Kentucky Bluegrass. This variety grows thick, bounces back quickly from heavy use, and stays green even in chillier climates. When you're ready to pull the trigger on top-quality grass seed like Kentucky Bluegrass, be sure to shop from reputable companies like Nature's Seed to ensure that you get the best results.
Bermudagrass
Golf courses commonly use bermudagrass for its dazzling green color, low-maintenance nature, and its ability to tolerate a high amount of foot traffic. The durability of bermudagrass makes it ideal for owners of active dogs that plan to use the yard to its fullest potential. Roughhousing and games of fetch are no problem, thanks to the quick-healing abilities and low maintenance of this grass.
Fescue
Fescue to the rescue, this type of grass can handle a little bit of everything. Shade, full sun, or low nutrient content, this grass will find a way to thrive in any condition. Due to its exceptional hardiness, Fescue is an excellent choice for people with dogs with a high urine output or families with multiple mutts romping in the yard. There are numerous varieties of Fescue to choose from, making it easy to find one that thrives in your specific climate.
Zoysia
Zoysia can be a wallet-friendly way to beat the heat if you live in an area with scorching summers or prone to drought. This variant produces dense, lush groundcover that resists drought and damage from frequent puppy playtime. Needing less water to care for your lawn means more money to spoil your furry friend and is less of a drain on environmental resources. Zoysia can take between two to four years to become fully established but may worth the wait if you have the time.
Perennial Ryegrass
Perennial Ryegrass is a hardy grass that maintains a vibrant green hue for most of the year and may even stay viridescent year-round if you live in an area with mild winters. This variety of grass produces a healthy and robust root system, allowing it to grow quickly and bounce back from environmental stressors. If you're looking for grass that can handle the everyday wear and tear that comes with caring for a large dog, Perennial Ryegrass may be just what you need.
Before you go
Owning a dog doesn't have to mean sacrificing your yard. It's just about finding the correct type of grass. Kentucky Bluegrass, Bermudagrass, Fescue, Zoysia, and Perennial Ryegrass are all hardy and fast-growing, making them the perfect groundcover to put up with your dog's daily activity. In the end, you get the best of both worlds, a happy pup and a beautiful, healthy lawn.
For more posts on caring for your lawn, check out these:
Putting Your Yard's Health to the Test: 7 Steps for a Lush Lawn
Lawn Care Tips for New Homeowners