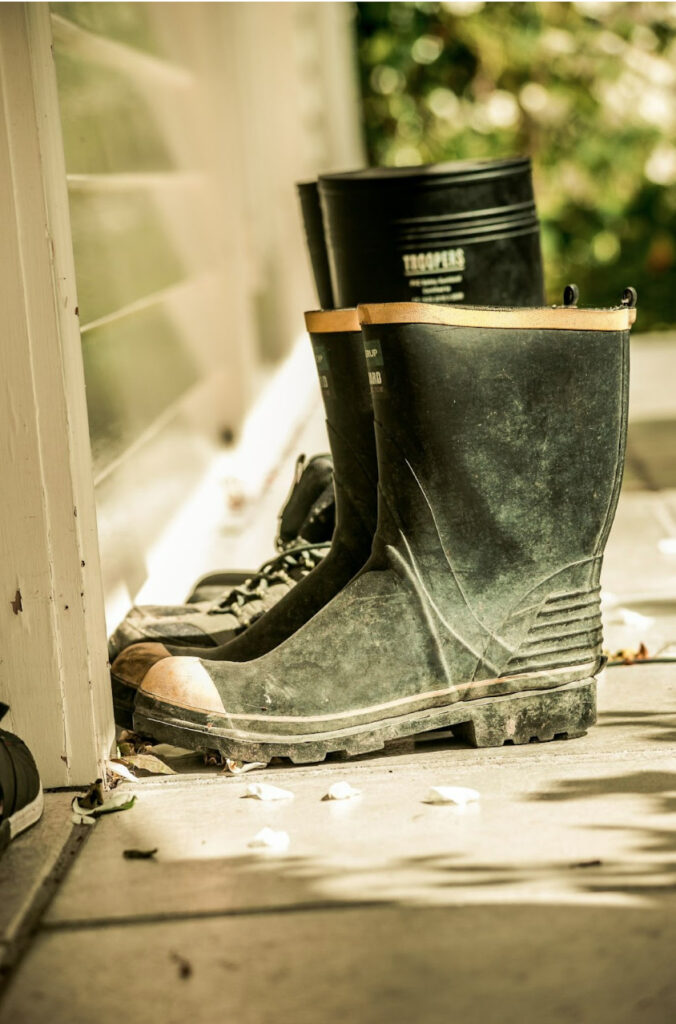 Mudrooms are a practical addition to any house since they provide a midway point from the outside to the inside. In addition to being a place to leave muddy shoes and wet coats, it's great for pets, laundry, and keeping the family organized for daily activities.
But, like other busy areas of our homes, they can quickly become cluttered and defeat their intended purpose of organization and keeping the outside, well…outside!
1. Use floor protection
Put a mat on both the inside and outside of the entry door even if you have installed very durable flooring in the mudroom.
The majority of the dirt will be captured by these mats, keeping it out of your mudroom and house. Indoor mats can be thrown in the washer, and the majority of outdoor mats can be hosed off.
Tip: To avoid slips and falls, always select an indoor mat with a non-skid backing.
2. Keep the space dry
Make an indoor drip tray for umbrellas and wet, snowy boots.
You can buy these or make your own by using a metal rack and a plastic drip catcher. In muddy or snowy areas, place a boot scraper next to the door beside your outdoor mat, and encourage people to use it!
For wet outerwear, have plenty of hooks or a drying rack. Make sure hats, gloves, and scarves have space in addition to coats.
When not in use, racks can be flattened and mounted on walls. If the laundry room is located in the mudroom, these are excellent for drying delicate items.
3. Think "air flow" in your storage choices
Instead of a shoe bin, include shoe racks that let air flow around wet shoes. Clearly label each family member's section. Create shelving from the floor to the ceiling to make the most of every inch of available space.
The addition of coordinating bins and baskets can add a unique touch to any shelves. Stack off-season items up high to make the most of the available space.
Make a safe storage location for cleaning and laundry supplies that is out of the way of kids and animals. If there is a pet in the family, remember to set aside a space for food and water bowls, leash hooks, and sealed pet food storage.
Establish and assign a personal area for each family member to keep them organized. These may be built-ins, modular units, or merely designated shelf and hanging areas. As a result, leaving the house each morning will be easier.
With a calendar and magazine holders or folders for organizing incoming mail, permission slips, and homework, the mudroom is the ideal location for a family organization center. Everyone in the family needs to check and update the calendar every day.
Cleaning Keeps Everything Organized
Give the mudroom a thorough cleaning at least once per season. Take everything out, sort it, and then decide what to donate. Place toys, sporting goods, and out-of-season clothing in the top storage positions on shelves.
Clean everything thoroughly after checking for mold and mildew caused by excess moisture in the mudroom.
While the mudroom is vacant, repaint the walls and make any necessary repairs to get you through the upcoming season.
Entryway Organization to Clean up Potential Messes
How to Create a Mudroom Just About Anywhere You Want