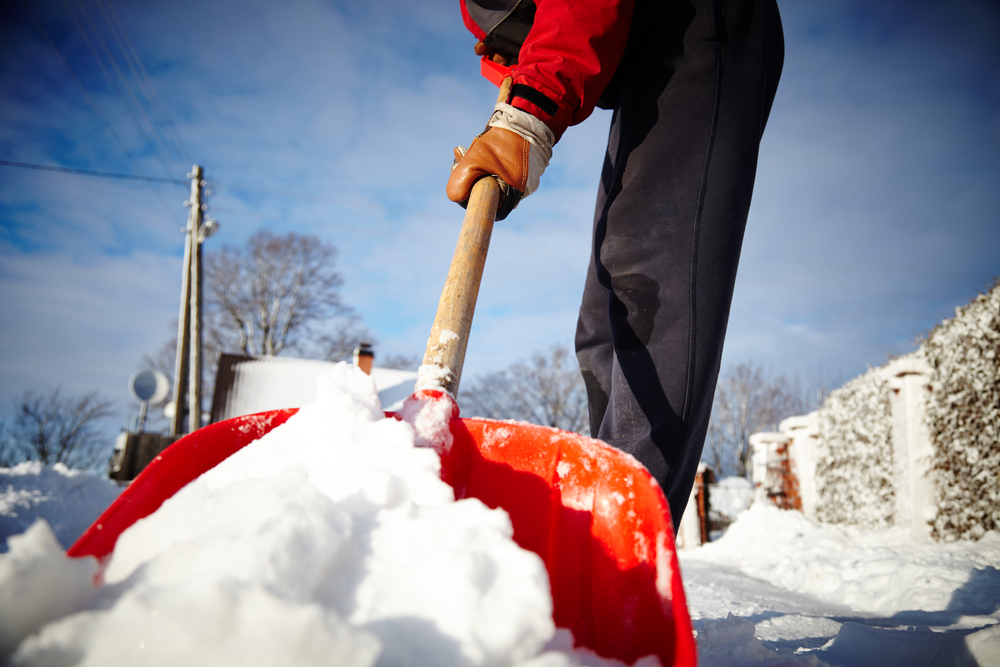 It's the time of year to pull out the winter coats, hats, and boots. When the winter wind howls, protecting yourself against the elements is natural. Just like you wouldn't stand unprotected in the icy wind and rain, your home also needs safeguarding when the mercury drops.
Taking good care of your home during the winter is one of the best ways to help it hold its value over time. To prepare for the coming weather, here are 15 winter home maintenance tools and supplies to have on hand.
1. Snow shovel
The first winter weather purchase is the simplest one. A sturdy snow shovel is essential for clearing walkways, driveways, and paths around your home. If you live in a city, you're not off the hook. Some cities require residents to keep the sidewalk in front of their home clear, and you'll need a shovel to move heavy, wet snow.
2. Ice melt or rock salt
Adding a layer of ice melt or rock salt to driveways and sidewalks prevents freezing and speeds melting. Stock up on this critical winter supply to prevent icy surfaces and ensure safe walking areas. Look for animal-safe formulas that won't harm dogs if they lick their paws.
3. Snowblower
Consider investing in a snowblower if you have a large property. It can save you time and effort, especially if you live in an area that gets frequent snowfall. Snowblowers are available in various price ranges and are quite durable with proper maintenance.
4. Roof rake
If you live in an apartment or condo, management will usually take care of winter maintenance. Single-family homeowners are on their own.
Significant accumulation of ice and snow can put stress on a roof. When it melts or slides off, it can catch gutters on the way down. Use a roof rake to safely remove heavy snow accumulation from your roof to prevent ice dams and structural damage.
This is especially important if you are considering selling your house in the spring. A home with a roof damaged by the ravages of winter is less likely to get a good price.
5. Chimney sweep brush
Chimneys should be inspected and cleaned annually. If you have a fireplace or wood-burning stove, a chimney sweep brush helps maintain a safe and efficient chimney between inspections. This simple wire brush passes down the chimney and removes creosote buildup that can lead to fires.
6. Gutter de-icing cables
Install de-icing cables in your gutters to prevent ice dams and clogs. These heated elements prevent freezing and allow water to drain.
7. Additional insulation
Many homes that are cold in the winter suffer from a lack of insulation, or the insulation has a low R-value, meaning it does little to prevent the flow of heat out of the home. Before you need it, add proper insulation in your attic and walls to help maintain a warm and energy-efficient home during the winter — and a cool one in the summer.
8. Weatherstripping
Adding weatherstripping is one of the most cost-efficient ways to lower your winter heating bill. It's easy and affordable to seal gaps around doors and windows to prevent drafts and heat loss.
9. Pipe insulation
Outdoor pipes that bring water into your home or attach to an outdoor hose are in danger of freezing every winter. Too much expansion and contraction can lead to cracks or costly burst pipes. Protect exposed pipes from freezing by covering them with pipe insulation.
10. Furnace filters
Spending more time indoors can affect your health if your furnace filters aren't up to the task. Replace or clean your furnace filters regularly to maintain efficient heating.
11. Firewood or pellets
Whether you use your fireplace for ambiance or as a heat source, you'll need fuel. Stock up on firewood or pellets early in the season or directly following winter for the best price.
12. Emergency generator or battery
In areas prone to power outages, an emergency generator or large battery can keep essential appliances running during winter storms. This is critical if you have a family member who relies on a powered medical support device.
13. LED flashlights
Reliable LED flashlights and extra batteries are great to have on hand year-round in case of power outages or emergencies. Also consider purchasing a headlamp for hands-free light when you need it.
14. Emergency food and supplies
Assemble a winter emergency kit with items such as blankets, non-perishable food, a first-aid kit, extra medications, and a battery-powered radio in case of severe weather events. Keep in mind that winter weather doesn't always mean snow. Strong winds and floods can knock out power and strand your family at home any time of year.
15. Regional weather supplies
Hurricane season in the Northern Hemisphere lasts until Nov. 30, but that doesn't mean significant rain and wind cannot occur after that date. For Americans living in warmer parts of the country, winter preparedness might mean stocking up on wood to cover windows, rope to latch outdoor furniture in place, and emergency food and water for when the power goes out.
Winter Maintenance Tips to Get Done Before Family Comes to Visit
Tips for Regular Winter Home Maintenance