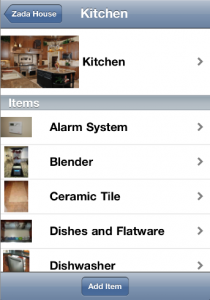 The process of creating a home inventory just got a lot quicker and easier, as HomeZada launched its HomeZada mobile for iPhone and the iPad. HomeZada Mobile for the iPhone allows you to take pictures of your home and possessions and seamlessly save it with HomeZada's web application.
The app also allows you to add key information about your possessions including the purchased price, the purchase date, the manufacturer, and the place where you bought an item. Tracking this information is good in case you need to replace the item due to loss, damage, or theft. The HomeZada iPhone app also supports multiple properties for customers who own or care for multiple homes which is valuable to manage all the details of all your homes at your fingertips.
HomeZada Mobile for iPhone or iPad is a FREE application that you can download at iTunes.  You can also download it by clicking on this link http://itunes.apple.com/us/app/homezada-mobile/id473722482
Download it today and let us know what you think! Tracking a home inventory is a lot easier with HomeZada's mobile app for iPhone.