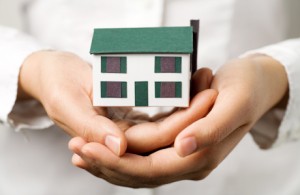 Lock your doors and windows – Most people are good about locking up when they leave their home, but it's important to lock your home up even when you are at home. Even if you are a 6 ft. 4 inch ex-linebacker who could take down anyone that might come in uninvited, because if that uninvited guest has a gun… it doesn't really matter how big you are. To make your home more safe, lock those doors and windows.
Stop hiding the key under the mat! – Everyone hides the key under the mat and it's probably the first place a burglar would check to access the house. Be creative and find a trickier spot to hide the spare key or use a key pad to allow you into your garage.
Keep the exterior of your home well lit – The harder you make it for a burglar to sneak around your home at night, the less likely they will target your home. Using lights outside will make your home more safe for you and your family.
Park your vehicles in the garage – Especially if you have nice vehicles. A burglar might not necessarily target your vehicle to steal, but they might target your home based on the fancy sports car in the driveway.
Install a home security system – Home security systems are very affordable these days, and there is no real excuse not to have one installed. Even if you don't have one installed, put a home security system sign in your yard or a sticker on you window!
Do you have any other tips for how to keep your home safe? Let us know by commenting below or sharing your tip on our Facebook page!