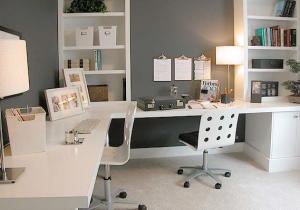 Here are a few tips for organizing and designing your home office to make it the best that it can be for your personal needs.
Tips for Organizing and Designing Your Home Office
– Carefully and strategically determine how much space you have and how much office furniture you need. Will you be having clients over? If so, you need to think about how many chairs and how much space to allocate for guests.
– Write down everything you might need: Filing cabinets, a printer, internet access, an external hard drive, furniture, office supplies, etc. This list will prevent you from making multiple trips to the office supply store.
– Be sure you have a phone line just for your office. Nothing is worse than having your son or daughter pick up the phone and start dialing while you are on an important call with a client.
– Will you be hosting large group meetings in your office to manage and if so do you need a conference table or at least seating with whiteboards.
Do you have any other tips for someone organizing and designing your home office? Or maybe you can share what your home office looks like and we can all get ideas of what may work to make our lives easier and more functional. Let's us know your thoughts on the HomeZada Facebook page.