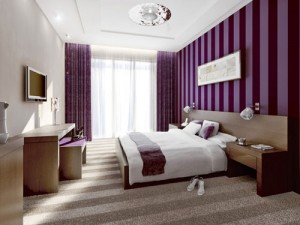 Light blue
Interior paint colors like lighter shades of blue are associated with cleanness and the natural flow of water. That is why there are many different places that you can put them on. One of the ideal places that you can use this paint color on is the bathroom.
Dark blue
Psychologists recommend that dark blue colors should be used in the bedroom. This is because dark blue colors can have a calming effect on people when used as interior paint colors.
Red
Red is a tricky color to use because it is a very loud color that attracts plenty of attention. So you need to make sure that the place that you use it on is the correct place. One thing that you can do to tone down this effect is to use the color red in patches so that you can have a more balanced look.
Orange
Orange is one of the more versatile color that you can use in the different rooms. It is very warm and inviting so the living room or the dining room is a good fit.
Yellow
Yellow is another tricky color to use because it can be very inviting to some while irritating to others. The one thing to remember when using yellow is that you need to find the perfect tint.
Green
Green is very soothing when used on its own. However, it is very difficult to use in conjunction with other colors. Darker shades of green are effective when used with black and brown while lighter shades of green can be used with white.