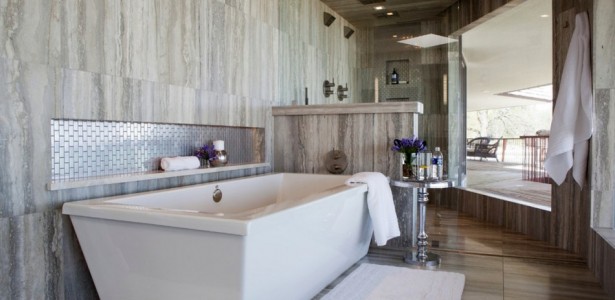 A bathroom remodel is a larger home remodel project than our previous example of replacing the carpet in a room and requires more planning. But our six key elements of home project management are still applicable with a bigger project. Let's take a look at how each one applies with the assumption that our bathroom remodel is keeping all the wall locations the same and the plumbing hook-ups in the same spot.
The Design:  The design here needs to take into consideration whether to have a bathtub with a shower head and shower door /curtain, or if the design will be just a shower with no bathtub.  Other design elements that need to get considering include whether a base cabinet and sink are desired, or a pedestal sink. What size of tiles to use on the floor, and walls and whether to have any accent tile. There are many more items here, so it may be best to have a professional design, or at least a very detailed design written down.
Product and Brand Selection: A bathroom remodel has a lot of project items that need to be selected depending on the overall design. Items like the toilet, sink, sink faucet, cabinet, tile, grout, bathtub, lights, towel racks, etc.  all need to be selected and they need to work with one another.
Labor skills to install: Remodeling a bathroom requires tile skills, installing cabinetry, setting and hooking up plumbing fixtures and even some light electrical skills if new lights are part of the design and home project management elements.
Budget: A project with more items like this takes on the need for more items to be budgeted. And if you have an overall budget that you must stick to, then you can have a lot of different budget trade-offs with all the different items. You could go with cheaper tile to afford a more expensive faucet, or visa versa.
Time: Having all the selected materials ordered and delivered becomes more challenging to arrange. And the demolition of the existing bathroom and installing all the new things will take more time, and you will lose the ability to use this bathroom during this time.
Quality: Was your design a good one as all the home project management elements in terms of style and colors have to come together. Was the quality of the tile work, plumbing installation and carpentry acceptable? Are you pleased with the final remodel?
In summary, home remodel projects with more items required more design, planning, and product research than smaller projects. These projects are also larger in financial costs and the time and skills required to execute on them are also increased.