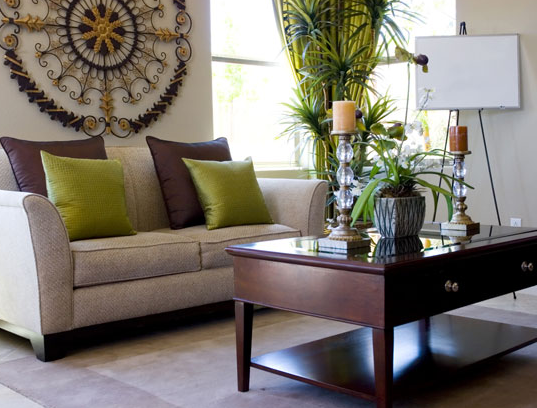 Staging your home for resale can make a difference of someone buying your home or someone else's home. Additionally, staging your home can help support listing prices and can speed the process on selling your home.  Here are five staging tips to help you stage your home for resale.  1. Remove the Clutter
When guests or potential buyers walk into your home, they want to see a pristine home that can help them view the rooms without a lot of items laying around.  If you have a special or sentimental collection, limit it to an area in your home that showcases the collection rather than creating a home of what might appear messiness.  This also applies to kitchen counter tops.  Try to have them a bit more organized and maybe temporarily putting away your least used appliances might be helpful in seeing the space in your kitchen.
2. Lighting
Go around your house and check whether your light bulbs work or not.  If they are burned out, then replace them with working light bulbs.  The right lighting can set a feel or mood in your home that attracts buyers.  Burned out bulbs can send of message of I do not care about my home and may trigger other concerns from a potential buyer.
3. Arrangement of Furniture
Arranging your furniture in a room can help your room appear larger.  Tricks like moving some seating areas closer together can give a room a sense of space yet intimacy.  Moving some furniture spaces to other rooms to fill them out to look more functional can also show a prospective buyer how to use the spaces in your home. It is important to not overcrowd a room with furniture and other items.
4. Using Color
Many color palettes vary so if you have a bright color in a particular room, neutralizing it with some muted colors can help the sale of your home.  Overpowering a room with one color can sometimes make people feel uncomfortable especially if it is not their favorite color.   Using soft colors can also help make a room feel larger than it is and create a soothing environment which can also trigger positive emotions with prospective buyers.
5. Minor Repairs
Having a functioning and working home is important to prospective buyers.   If you have areas in your home that need fixing, now is the time get this fixes completed.  Maybe your home needs a refresh of paint in certain rooms or on the outside.  Paint can give a freshness that appeals to new home buyers.