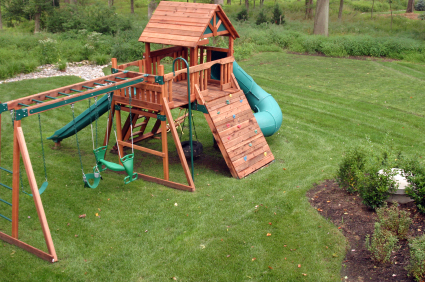 Parents with kids often times invest in a play structure in the back yard. There are different sizes and types of structure and can vary based on the age of the children. These can be a great time for kids providing them an opportunity to play and exercise. And still allows the parents to be close by. Play structure come in all different sizes. Many of them come with a slide, swings and a tower for climbing. These can get very intricate with wooden bridges, balance beams, and hanging bars and rings. A key aspect of these structures is the base that they sit on. Some people leave them on a lawn area. While others will create a raised bed with wood chips that is softer when kids fall down.
Items to consider for your play structure
The play structure is the main item. But you might want to consider creating a raised, boxed in area with a softer material to play on.
Area Framing
Ground Material
Playset
Labor
 How to install your play structure
Reading and following the instructions of the play structure you purchase is the most important step. Making sure the unit is installed properly and for the appropriate age and weight of children is paramount for safety purposes. You also want to make sure you install the unit on level ground.
If you are going to create a separate area for the structure, you might need some large redwood planks to create a boxed enclosure. And have some material like wood chips delivered as the soft surface underneath the play structure.
For more about this remodel project, visit the HomeZada library.