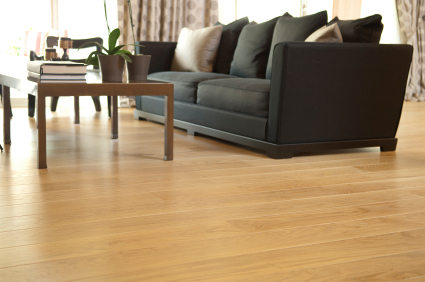 You can freshen the look of many rooms by replacing old and worn out flooring with a new floor. With living rooms, it is common to choose either carpet or wood flooring. It is a good idea to measure the dimensions of the room to estimate the quantity of material required to replace the floors. It is also good to understand how many flooring transitions there are or will be with adjacent rooms.
Items to budget for living room flooring
Here is a basic list of items to budget for with replacing the flooring in your living room.
| | |
| --- | --- |
| Base Boards | Paint |
| Flooring | Labor |
 How to install flooring in the living room
The most important aspects are to follow the manufacturer's instructions.  You might consider a professional to do the installation work for you as well as they have experience and may also get the job done faster.
To get started, you can help by moving the furniture in the room to a different room or location temporarily.  If you know how to remove baseboards and feel confident in your experience, removing these base boards will also make the process of removing and replacing flooring easier.  Once you have completed these tasks, you can tear up the existing carpeting and padding. Once the carpet is removed, you should be exposing subflooring which will act as the foundation for your new floor.  Sweep up any left over debris and it is time to get to work.  The video from Armstrong found on HomeZada's remodeling tips is great way to secure the right tools and the process of installation.