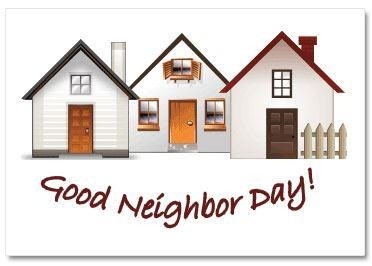 It is Good Neighbor Day! Here a few tips you can perform to make your neighbors feel valued.
-Take them a tasty treat to say thank you for keeping watch over your home.
-Pass out handy cleaning kits for brand new neighbors that move into the neighborhood.
– Coordinate or participate in a neighborhood watch.
– Host a cocktail party to help all neighbors meet each other.
– Start a dog walking service to get all those friendly pets some exercise.
– Pass out lists of your favorite service providers because neighbors are always looking for good contractors.
– Host a coffee break!
– Pick up your neighbors' mail when they are on vacation.
– Participate in your neighborhood BBQs.
– Keep your home clean and neat because it reflects on all the neighbors in the neighborhood.
– Share costs to put up a fence.
– Ask your neighbor if they need anything while you are running errands.
– Share your favorite book with your neighbors.
– While gardening, cut a bouquet for your neighbor.
– Smile and wave while walking and driving through the neighborhood!
We hope you have a great good neighbor day!