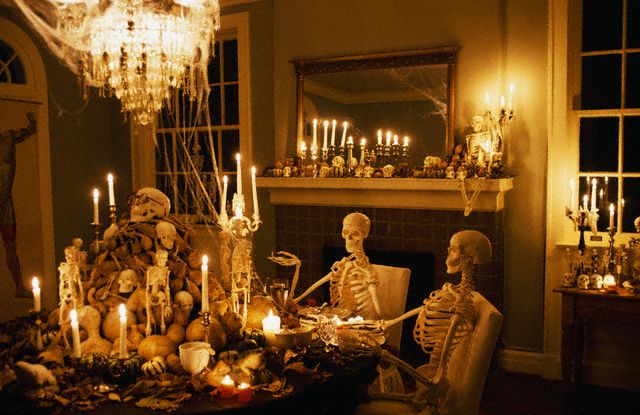 Halloween is a magical time of year! We love Halloween and the crazy Halloween decorations that can add to the magic of Halloween. To get a spooky or creepy looking Halloween decorated home, you need not look far to make even the bravest of people cave and go timid from fright. Creating a frightful room or porch or even the whole house can be a fun project that the entire family can partake in.
What is your Spooky Theme?
Start with identifying your favorite creepy look and feel. It might be you are afraid of spiders. Or you do not find graveyards particularly fun. Or you maybe creppy crawlies and bugs are your thing. But whatever you want accomplish, start with creating your idea foundation because if can only creepier once you get started.
Review the Landscape
So you have your theme, now you review where you want to add this spooky look to your home. Is the front porch the best place to scare the trick or treators? Or is a bathroom something that Freddy Krueger or Jason will pop out of? Maybe an unused dining room gives you an excuse to use it … adding the frightful inspiration to a embrace a room.
Get to It
Now it is time to get it all set up! We love spider webs so some gauze can help create these creepy areas of your home. Maybe some old black fabric is laying around and you could use it create a tattered effect and a little powder or baking soda can make things look a little old. If you had a chance to visit the Halloween store and you found some skeletons, these make great guests at a dining room table, while candles (real or battery operated) can send an eerie look to a room. The birds are often a scary idea, so finding feathers strategically placed around your house can keep even Alfred Hitchcock aware.
Don't forget the vampires and a rim of blood around a glass. Simply using some food coloring to create this look can scare away any once bitten adventurer. Using dry ice at a party will give a smoky environment creating a fog like affect that can create hesitation from anyone.
Whatever you decide to do, have fun and remember that even a headless horseman needs some inspiration.