The first thing you'll have to figure out is this: what exactly do you like about hotel styled bathrooms? Is it the luxurious and extravagant look? Is it the long-wearing and practical features? Or maybe it could be the spa type vibes you often get in a luxurious hotel style bathroom?
Here are some tips on helping you achieve that look.

 1 – Choose Luxurious Materials
Hotel style bathrooms are often luxurious. They use grand materials like marble and glass. So if you're wanting to replicate the effect, it would be a good idea to use the same materials.
1.1 – Marble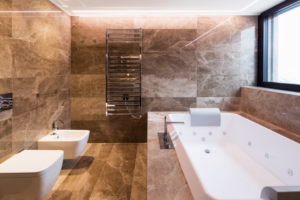 You'll find marble in most 4*+ hotel bathrooms. It's a material that has always been associated with luxury. Marble was even a favorite of the ancient Greeks and Romans for sculpting. Why? Well, marble was the finest and most sought after material for Roman stonemasons probably because it has a natural pattern that is great for reflecting light.
It is also a very durable material which makes it great for hotels as it stands the test of hundreds of thousands of guests over the years. The natural pattern also complements most bathroom accessories too.
If a marble floor is out of your price range, don't worry. Try investing in marble accessories instead.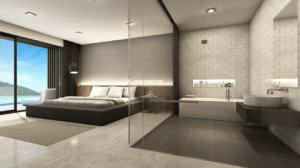 1.2 – Glass
Hotels use a lot of glass. Glass does a great job of making the room look clean and well kept. That's providing it's not all smudgy and dirty. Just like marble its reflective surface allows light to bounce around the room.
2 – Tile All Over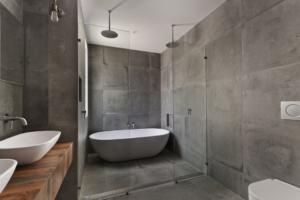 This stone design is slightly different from your average luxury hotel.
Modern sleek and clean lines are definitely the in right now. Manufacturers are creating tiles that look like real stone and it looks very edgy. I love this style and I can see more hotels adopt it.
Putting the stone look aside, utilizing lots of tiles is a great idea. Hotels use tiles because they are highly durable and its a great material when so many guests use the bathroom. Tiles can be a great idea for your home bathroom but you have to use them right. Wall Tiles can either make or break a room.
Notice the picture above has a fully tiled room, with cleverly placed lights and a perfectly utilized floating wooden vanity unit.
3 – Consider Using Black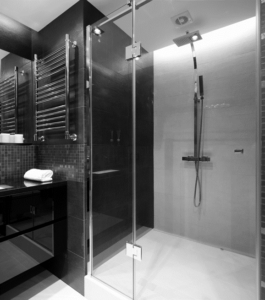 Black bathrooms are stylish and sophisticated. Charcoal greys work great too. The problem is, you have to think about how much black you want otherwise you can drown the entire room. Is smart black bathroom wall tiles enough? Or will it stop with a black sink that truly does make a statement?
A small hotel style bathroom will minimize the amount of black they use. This is because colors like white make space feel bigger. So make sure you're working with the layout of your bathroom.
If you're stuck for ideas, websites like bella bathroom sell entire cheap bathroom suites as a package.
 
4 – Light Surroundings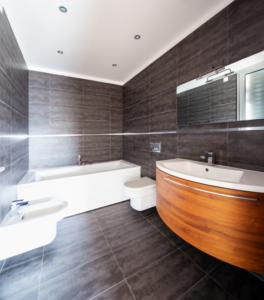 Hotel Bathrooms are often well lit, this makes them feel very comfortable and relaxing. Lighting is exceptionally powerful with interior design and can transform a room completely.
4.1 – Focused lighting
Most hotels do not have the luxury of using natural lighting. So you'll find the bathroom has pretty much always got carefully placed artificial lighting. To accomplish this feeling at home, we recommend adding in some carefully placed spotlights over areas like the bath and the sink.
4.2 – Mirrors
A mirror is very important too. Not only for checking your appearance but there great for creating an illusion of space, adding light and making some easily hidden storage space.
5 – Create an Organized Space
A space that is messy and cluttered will kill the vibe of the room completely. When have you ever been to a hotel and thought this place is pretty cluttered? Maybe just before you leave your room but never upon entering.
Hotel rooms are completely absent of clutter and we really appreciate that even if we don't realize it. So when designing your own bathroom consider the storage options you have. You want to make sure your bathroom is neat and tidy. So everything should have its own place and nothing should be left out unless its for decor.

6 – Think About The Shower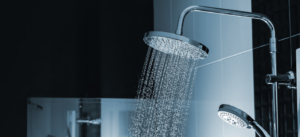 If you're wanting to make your bathroom feel like a luxurious hotel then you have to consider buying a great shower head. Some hotel guests are in the shower at least once or twice a day. Personally I always notice the difference when staying in a cheap hotel compared to a luxury hotel simply by going for a shower.
The water pressure is almost always significantly better in a luxurious hotel and that's probably down to hotels investing in a quality shower head that improves the water pressure and saves water too.
This is something I really appreciate. When I've been out and about all day and just want a nice long shower I would hate to have the water trickle out the showerhead.
Another noticeable feature you'll often find in a luxury hotel bathroom is the waterfall showerhead too. This could be a nice addition to your own bathroom too.

7 – Work With Wood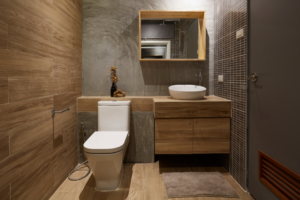 Adding some subtle wood elements to your hotel style bathroom (especially if its a black or charcoal grey themed bathroom) will look great. This helps bring a bit of nature and breaks up the room.

8 – Buy Fancy Towels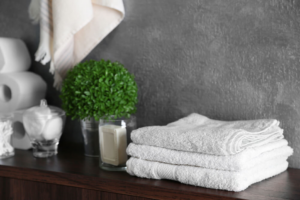 You could top it all off by adding some thick, fluffy towels to wrap yourself up after a nice hot shower. If you want to splash out, invest in a set of Egyptian cotton white spa set.
Plus if you have a heated towel rail your towels will be nice and warm, which will help you achieve that luxury spa effect too!
If you like this post, check out these:
Bathroom Vanities that Sparkle and Shine
Bathtubs and Relaxing in Your Own Oasis