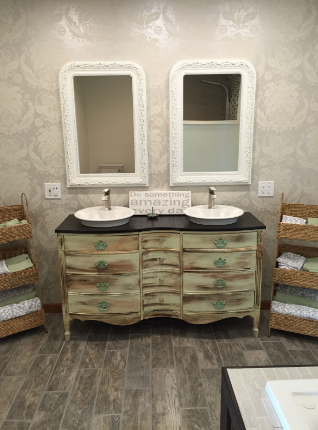 Replacing the vanity in your bathroom?
While you could buy a prefab one from your local home improvement store or pay a cabinet maker for a custom made one, why not DIY one from an old piece of furniture?
This can be a fun project that allows you to save money and add a unique touch to your bathroom. However, it's important to make sure the piece of furniture is suitable for the bathroom environment and has proper water-resistant finishes.
To help inspire your DIY bathroom vanity project, we've put together some creative ideas found across the web.
Some ideas include converting an old dresser into a double vanity with a vessel sink on top, using a vintage sewing machine table as a vanity base, or turning an old tabletop into a beautiful, functional vanity.
Regardless of which option you choose, with a little creativity and elbow grease, you can have a one-of-a-kind bathroom vanity that adds character and charm to your space.
1. Basic and beautiful

Source: At Charlotte's House
It's vital to choose a piece that's the correct height. The proper depth is also crucial, but you can always find a sink that fits and change up the plumbing to fit the available space. The width is determined either by the available space or personal preference.
Check out a full tutorial for this DIY project on the website.
 2. Vintage table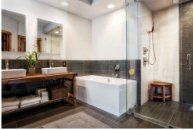 Source: Houzz
With clean, simple lines, a table vanity is a great option for modern style bathrooms.
3. Vintage buffet
Source: Pinterest
This vintage buffet includes a built-in shelf and mirror. There is more than enough space for two sinks and a ton of storage. If you enjoy the Victorian look, you've got it in spades with this bathroom vanity DIY.
4. Table vanity
Source: Francois et Moi
Simple modifications, such as replacing part of the existing legs with taller ones, sealant, and reinforcement of the top to hold a marble countertop, helped this blogger create a beautiful and unique bathroom vanity.
5. Sewing table vanity
Source: Life on Kaydeross Creek
What about a table made from an old sewing machine? The size of this sink is ideal for a powder room, and the copper finish sink is the perfect choice.
Important considerations
Finally, consider the functionality and durability of a piece of furniture when choosing it for your DIY bathroom vanity project.
Do your research beforehand and ensure the furniture is the right size for your bathroom and plumbing needs.
With careful planning and a bit of creativity, you can turn almost anything into a unique and functional bathroom vanity that adds character to your space.
8 Clever Bathroom Storage Upcycling Ideas
8 Tips for Renovating a Tiny Bathroom