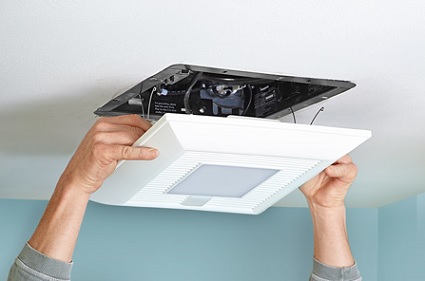 Exhaust fans are generally located in the ceiling in your bathrooms. Without proper cleaning, these fans get clogged and may burn out faster resulting in a broken exhaust fan.  It is important to periodically clean exhaust fans throughout your home.
Simple Tips to Clean
A small step stool or short ladder might be necessary to start the cleaning process. Remember safety when using step stools and ladders. Using a handheld vacuum cleaner or your vacuum's hose attachments, vacuum the vented openings. Next, remove the cover of the fan typically by pulling straight down and squeezing the spring clips.
Once you have the cover off, disconnect the fan and proceed to take your handheld vacuum and clean inside and around the fan itself. Clean the cover first by vacuuming it and then use some soap and water to clean off any excess dirt. Let the cover dry or dry with a towel, plug the fan back in and put the cover back on.
Learn more about this maintenance tip at HomeZada's library of maintenance tips.