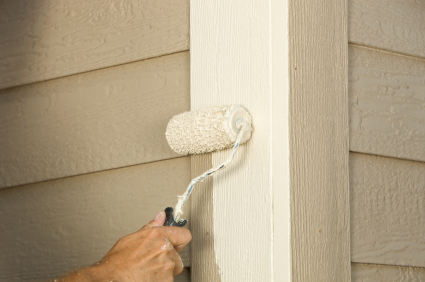 Painting the house and specifically the outside is a relatively easy way to freshen up the exterior of the home. Either the sun and elements over time has caused the existing paint to deteriorate and it needs a new coat of paint, or you just may want to change the look of the home by changing a color. When deciding on a color, you might want also to consider a second color as an accent for trim areas around the home. In addition, it is a great idea to talk to a local paint supplier about what the exterior siding of your home is made of, such as stucco, wood or vinyl siding, etc., and decide on what kind of paint is recommended.
Items for painting the house
You can do a rough measurement of the outside of your home to work with a paint supplier to determine how many gallons of primer and paint you need.  Here is a list of other items to plan for with a new paint job.
– Paint
– Painting Supplies
– Labor
You should decide if you have the skill and tools to do this yourself of if you should hire a contractor.  You should also be aware of safety concerns with ladders in reaching high areas of the home that need to be painted.
How to paint the exterior of your house
The first part of painting the house is sanding down the loose and cracked areas if they exist or replacing worn out siding if needed.  You should also tape the windows and other overspray areas.  You might also consider covering shrubs and other landscaping. Remember the little details like house numbers, any outside speaker equipment or hanging pieces.  Either temporarily remove what you can or cover to avoid paint.
Painting the exterior of a home is easier with professional equipment like sprayers.  Depending on your situation, you should also determine if you need two coats or one with your exterior.
For more information on painting your home or other HomeZada home improvement tips, visit the HomeZada library.