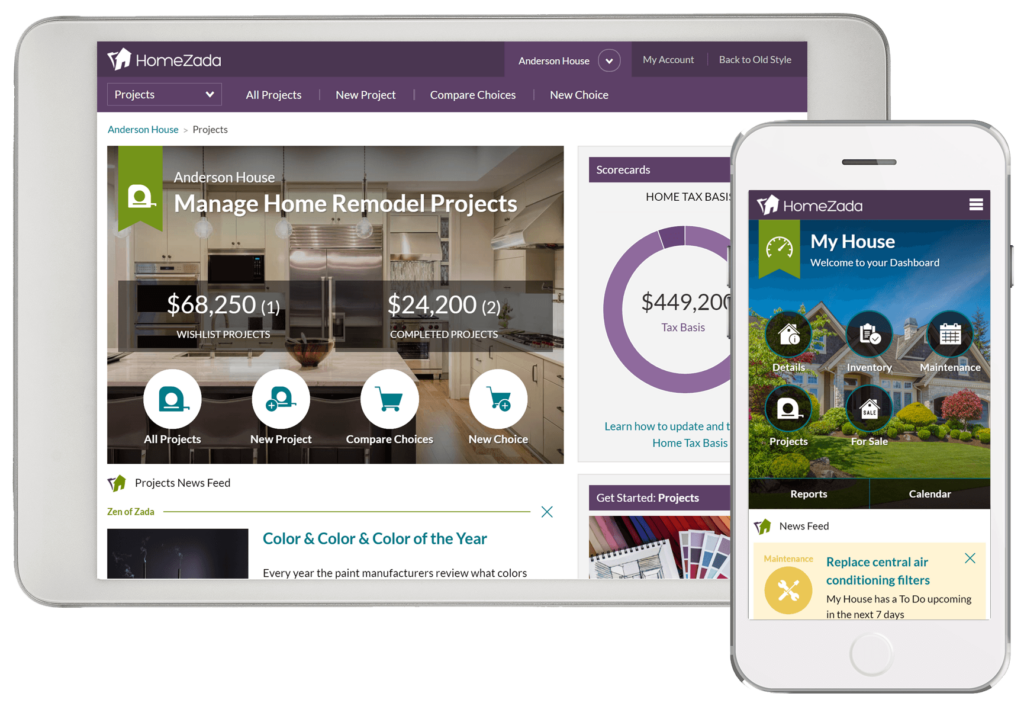 Have you ever wondered what it would be like to have the best tool possible to manage your home? We have the best tool you will need. It is not a hammer or screwdriver, not even a chainsaw. But is it is a digital home management platform that helps you track everything about your home in one central location. You may be asking what is a digital home management platform?
HomeZada gives you an website and a set of apps to track a home inventory, manage a maintenance calendar, leverage templates for home remodel projects, and review all home finances. Not to mention if you own multiple homes, you have one centralized location to track everything about your homes.
Tracking a Home Inventory
Tracking a home inventory is for those homeowners who want to know what they own, what the value of the contents are in their home, and to protect themselves in case of an unexpected situation like a natural disaster or a robbery.
By documenting what you own, you can also create a personal property memorandum that can be used in your estate planning process.
Managing a Home Maintenance Calendar
Managing a home maintenance calendar with reminders is for all homeowners. By keeping a home operating properly with maintenance, you have cost efficiencies, a healthy home and one that is safe. The more care you take care of your home, the more valuable it is when you are ready to sell. Additionally, home maintenance can prevent unexpected repair costs.
HomeZada reminds of those tasks but also tracking the completed tasks makes a big difference in home management. When you track all the budgets of the completed tasks, you are establishing trends and setting budgets for ongoing home maintenance. This makes annual financial planning more efficient.
Templates to Track Home Remodel Projects
Many people are not experienced in construction or project management. But that is not a reason to avoid home remodel projects. With HomeZada's project templates you can tackle any remodel, repair, or design project to personalize your home to suite your needs.
HomeZada will help you track the items for each project and all the project tasks you need to tackle with or without a contractor. In fact, if you have a contractor, then you can invite them in to use HomeZada with you.
Review All Home Finances
Many homeowners struggle with tracking all the financial details of their home. With HomeZada, they can track their mortgage payoff, the forecasted value of their home, the equity they have in their home, the total expenses for their home and much more.
By understanding the entire cost of homeownership, you can determine how to manage the money you spend on your home but also the impact your home budgets have to your overall personal finances. It is great knowing where your money is going so that you can learn how to invest, save, and budget for all your personal needs.
An All in One System
With an all in one system to manage your home, you can become more aware of how your spend your time and money. Not to mention, you become more efficient and stress free. Why use fifteen systems or none at all to manage your home, when you can have a safe, secure system with unlimited documents, photos, and videos.
As Einstein said, "Paper is used to write things down that we need to remember. Our brains are used to think."
For more on HomeZada, check these posts out:
HomeZada Tip: Sharing Your HomeZada Account with Family
HomeZada Tip Professionals Sharing Properties with Customers